Important to know!
Slowly introduce unfamiliar plants or amounts into the diet to prevent digestive problems.
This is especially for animals who, up to this point, have been given fresh food in rations. This is because they tend to eat too fast and in too large an amount. Usually the migration works with many small portions given separately over the course of the day. Over time you should slowly increase the volume of each portion.
Grasses, Herbs, Leaves & Flowers
If you have a choice, you should feed rabbits as appopriately as possible. They should be fed a high portion of grasses, leaves, flowers & herbs.
Basil
Ocimum

Has a healing effect with digestive disease.
Anti-convulsant.
Stimulates appetite.
Stinging Nettle
Urtica
If fed fresh, the young plants are most suitable.
Diuretic and analgesic.
Anti-inflammatory.
Dill
Anethum graveolens
Stimulates appetite.
Anti-convulsant.
Helps with digestion.
Daisy
Bellis perennis
Diuretic and good for the liver.
Grass


There are lots of different grasses. A few are poisonous. Always introduce fresh grass very slowly.
Never feed mowed grass.
Chamomile
Matricaria chamomilla
Helps with bowel complaints and breathing difficulties.
Clover
Trifolium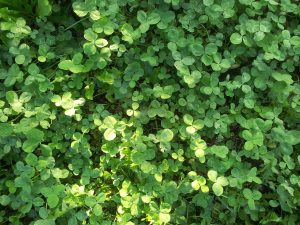 Just feed in very small amounts as is flatulant and can lead to diarrhea.

Dandelion
Taraxacum sect. Ruderalia
Diuretic and good with kidney disease.
May colour the urine red.

Lucerne

Medicago sativa
Fresh form should be only rarely given. Has very high protein and calcium content.
In large amounts is unhealthy.

Garden Lovage
Levisticum officinale
Good with kidney problems.
Marian Thistle
Silyb

um marianum
Melissa
Melissa officinalis
Mint
Mentha
Pain relieving.
Anti-inflammatory.
Anti-convulsant.
Mucus dissolving.
Good with gastrointestinal problems.
Oregano
Origanum vulgare
Good for intestinal problems.
Parsley


Petroselinum crispum
Diuretic.
Promotes contractions in pregnancy.

Marigold
genus Calendula
Sage
Salvia
Disinfective.
Helps with intestinal problems.
Ribwort Plantain & Plantain
Plantago lanceolata &  Plantago major


Anti-inflammatory.
Helps with intestinal, kidney and bladder disease as well as coughing and cold.